(By Reservation)
Available approximately April 1 to November 1. Enjoy miles of scenic wooded trails. All rides are guided. Must be 8 years of age or older to ride the trails – no double riding. 250 lb. weight limit. Pony rides available for the little buckaroos.
Ride Times: 10:00 a.m., 12:00 p.m., 3:00 p.m., 5:00 p.m.
Daily by Reservation.
Phone: 330-484-3901
Trail Guided (Per Person Per Hour)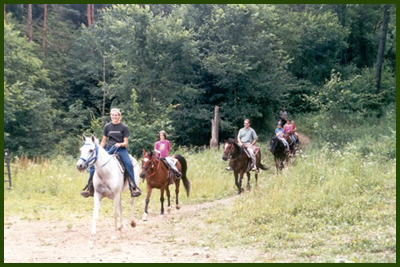 Wednesday thru Friday                                                                                                               $30.00 per person
Saturdays/Sundays/Holidays                                                                                                   $30.00 per person
Pony Rides for Little Buckaroos (Includes Guide to Lead Child / Children)     $20.00 for 20 Minutes
CLOSED MONDAYS & TUESDAYS
Horseback Riding Day Camp
Learn all about horses! Care, clean, feed, groom, trail riding, clinics and more!
(Phone 330-484-3901 or visit www.bearcreekstables.us for more information or brochure )
DAY CAMP for Ages 8 & Up                                           $275.00 week Per person ($100.00 deposit required)
All weeks will be Beginner – Intermediate Horse Experience
Monday to Friday from 9:00 am to 3:00 pm